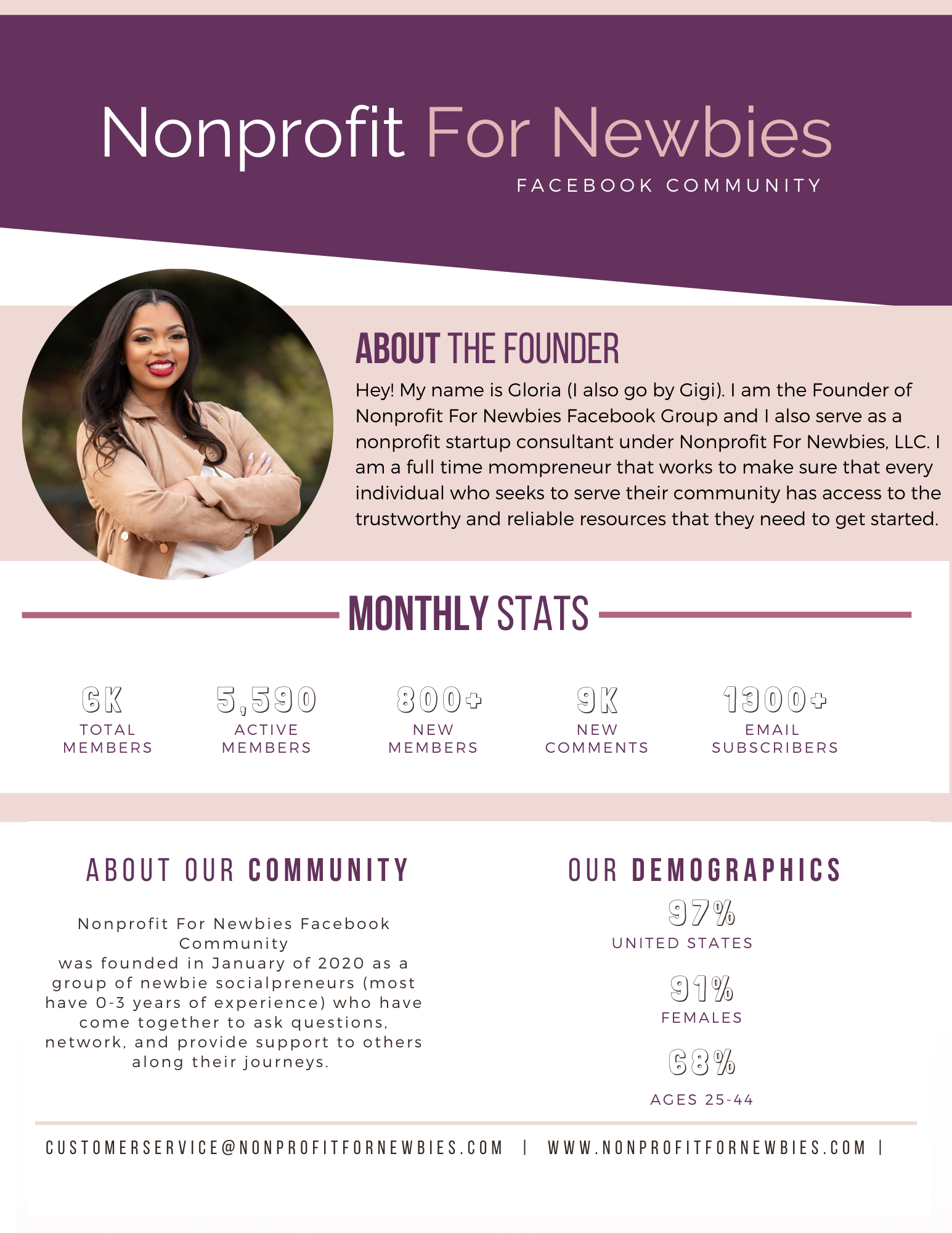 ABOUT US
Since inception in January of 2020, we have grown to a community of 6,000 Facebook Members. Of those members, an astounding 5.6K are active members, which means they read and engage with our posts. According to Facebook metrics, we are growing at a rate of about 800 new members each month. With each month comes new opportunities and new challenges- and we are extremely proud of our accomplishments thus far, including helping an estimated 300+ founders start their organizations.
There are 14 categories of services that newbie nonprofits typically need:
FILING SERVICES 
STARTUP SERVICES (STRATEGIC PLANNING)
BUSINESS PLAN WRITING
WEBSITE DEVELOPMENT
BRANDING+GRAPHIC DESIGN
SOCIAL MEDIA EXPERTS
FUNDRAISING CONSULTANTS
FUNDRAISING PRODUCTS
GRANT WRITING
DONOR MANAGEMENT 
VIRTUAL ASSISTANT 
MARKETING EXPERTS
CPA SERVICES
ATTORNEY SERVICES
We are offering 7 businesses from each category to be featured on our website and announcements tab.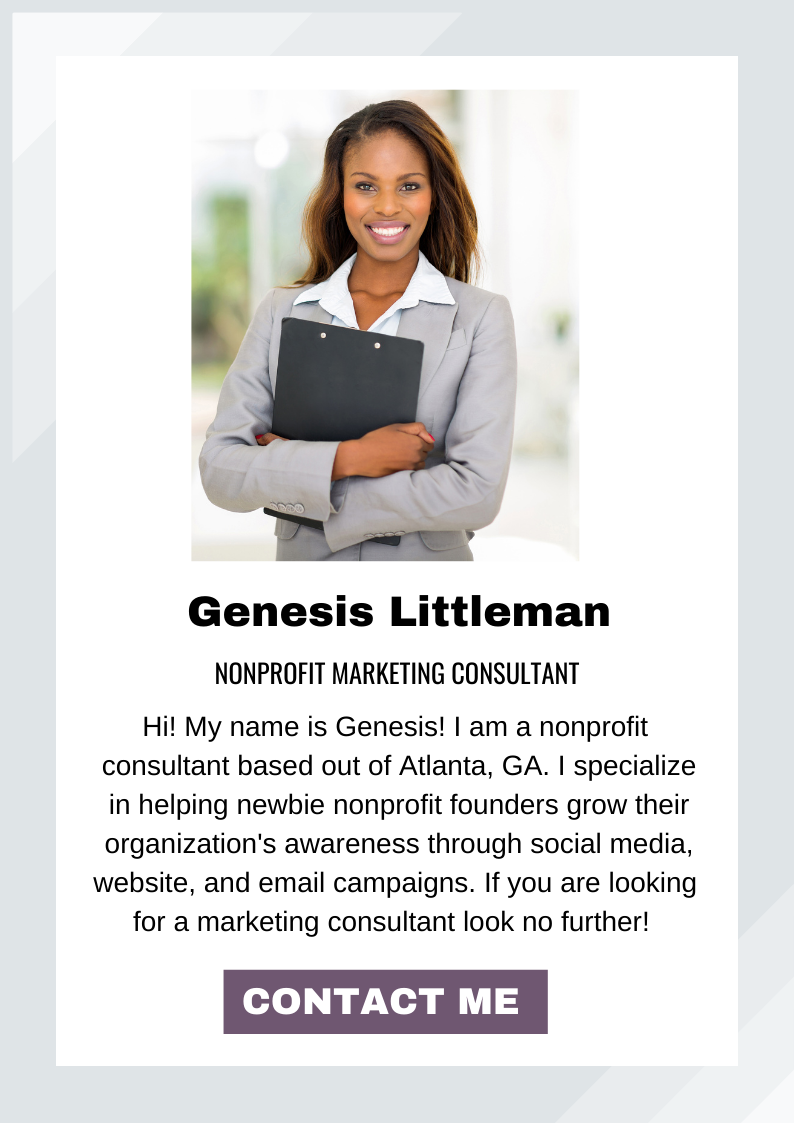 How It Works: 
Our group has 500+ posts each month, and many of them are members looking for services relevant to their organization. Because of our rapid growth, we have received an increased recommendation from our members to have a list of vetted businesses that they can refer to when they would like to pay for services.
NEW ACTIONS WE ARE TAKING:
-Referral posts from members will be approved
"Where can I find a ____?"
, an admin will comment recommending that they check the announcement page and turn comments off
-Announcements page will link to our website and include:
Business Name
Business Profile Photo/Logo
Business Pitch (how you can help)
Contact Information
-Freemium information, self promotion, and "pm me" comments will no longer be allowed (3 warnings and then removal)
-4 Advertisement posts per month (1 per week)
Spots are filled on a first come, first serve basis. Those who register first will be at the top of the recommendation list.
EARLY BIRD SPECIAL
Sponsorship Program $9.99/per month
Price subject to change for others based on the growth of our community. After purchase, you are locked in at that price for life (or until cancellation)


Optional Add-Ons:
We offer solutions that provide our members with helpful information while also solidifying your business as the go to expert for nonprofits looking for services in your industry.


Guest Blogging
includes email campaign
starting at $49.99
Nonprofit For Newbies will run an email and blog campaign to educate newbies on the resources available to them and direct them to your organization's products or services. 
How It Works:
Ideal for products or services that are available to nonprofit organizations
Complete our discovery form that describes the concept of your blog post, the content, and the sales copy that leads clients to your organization's website
Your blog post will be shared on our website, our Facebook Group newsfeed, and our email list
The blog content should provide educational information to nonprofit newbies and lead them to your organization's website to learn more about how your company can help
Copywriting services available $49.99 per 150 words 
Zoom Interview
starting at $99.99
How It Works:
Ideal for increasing brand awareness and establishing your organization as an authority in its designated industry
Complete our discovery form that describes the products and services you offer, a list of the top questions you'd like us to ask, and any promotional materialThe Interview will be promoted through one paid $25 ad to our target market and a campaign through Nonprofit For Newbies Facebook group and email list Our prospective audience will register through Nonprofit For Newbies website Zoom meeting will provide educational content through an interview style webinar (approximately 45 minutes) and conclude with Q&A 
Promotion Post
starting at $19.99
Nonprofit For Newbies will run a campaign that includes 3 consecutive advertisements on behalf of your organization.
How It Works:
Ideal for events, trainings, program launches, and webinars 
Complete our discovery form that describes the concept of your advertisement, the sales copy, content, and any promotional materials
Your advertisement posts will be shared to our Facebook Group newsfeed
Your product or service is introduced to our audience from a trusted source 


Thanks for submitting your information! Please continue with the checkout process.